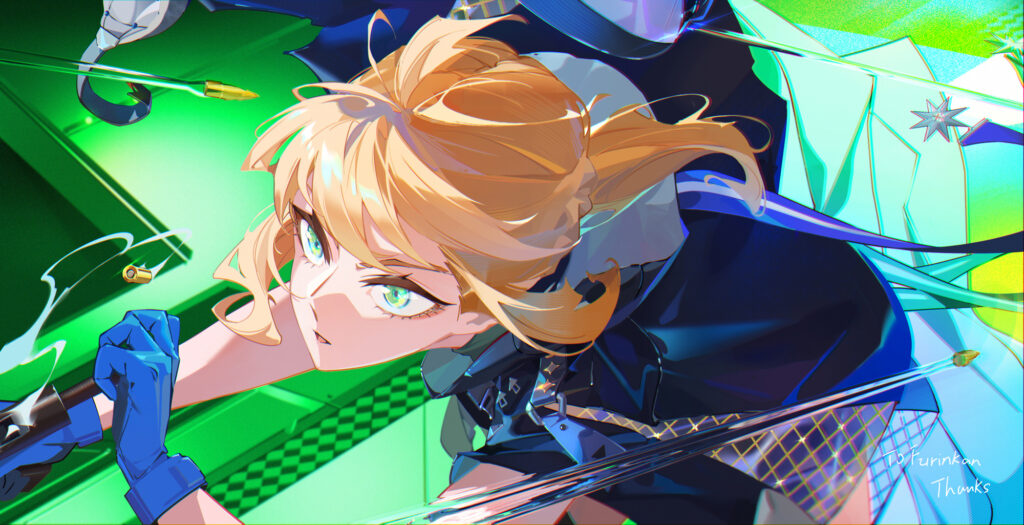 25000+1000 yen
By tr6xx
Commissioned 2023-03-27
It's probably not really obvious but this work is riffing on the Sandevistan from Cyberpunk 2077, and its visual depiction from the (rightly) popular spinoff anime Cyberpunk Edgerunners. Tr6xx has a bunch of cool Edgerunners art on their pixiv account so I figured they'd be up for the request. Welrod has one of the higher Evasion stats in the game when she's fully levelled up, so the idea that she'd dodge bullets in a similar way was natural. 😀
The depiction of the Sandevistan in the anime is iconic, it features prominently and frequently. It's a bit of a shame that the multiple afterimages don't make an appearance, but I think it makes sense from an art direction/composition perspective - the effect is visually much easier to read when it's animated, which we obviously don't have the luxury of here. The alternative used here, bullet time, is well known and visually legible even in a static image, so it's a solid choice.
I really like that's she's reloading her gun, and doing so accurately. That's excellent attention to detail.
This was another time I had to do nasty things to get the desired output from the auto translation on Skeb. I just wanted some super casual speech to suitably express my appreciation for tr6xx.
うを、やべすぎ! Yo this is siiiiick, I love it! Maybe not everyone will understand what's going on, but it's okay 'cause I know. '_'v

The composition is great, I can really feel the motion and flow of the picture, thanks to the rifle bullets and her jacket. It's super cool dawg. I really like that Welrod is accurately reloading her pistol, with the spent casing only being ejected when she opens the action.

---

うを、やべすぎ!よぉ、これはシビれますね、大好きです!たぶん、誰もが何が起こっているのか理解できないだろうが、私は知っているから大丈夫だ。'_'v

構図が素晴らしく、ライフルの弾と彼女のジャケットのおかげで、絵の動きや流れがよく感じられますね。超クールです。ウェルロッドがピストルを正確にリロードしていて、使用済みの薬莢はアクションを開いた時にだけ排出されるのがとても良いですね。