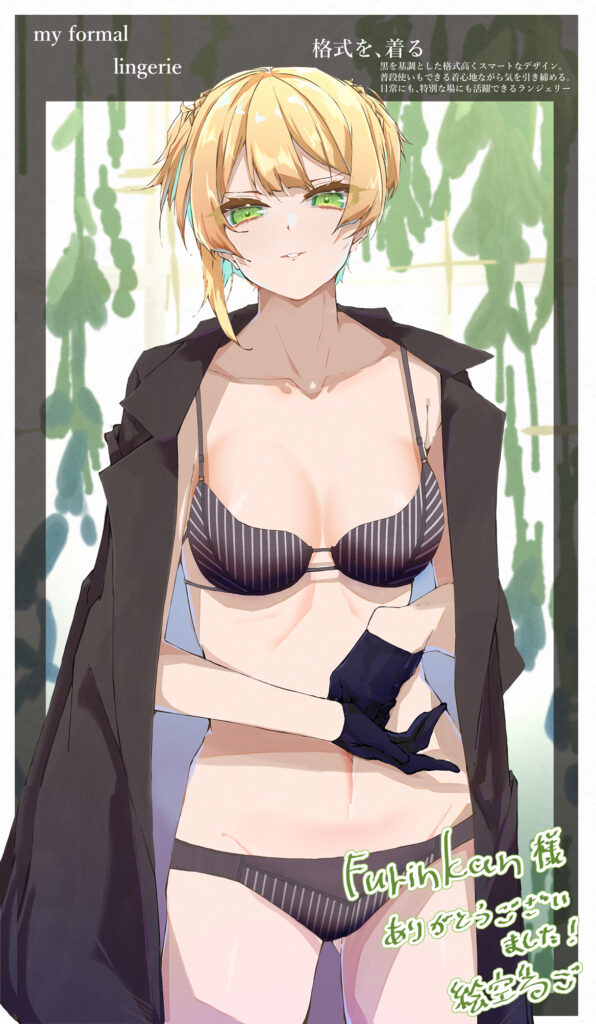 15000+1500 yen
By Escargot (絵空るご)

They seem to have deleted their twitter+skeb account, but their Pixiv account is still up

Commissioned 2022-03-04
Escargot has done a bunch of original lingerie designs, mostly for Girls Frontline. They're very classy and take inspiration from the character designs, and manage to feel like something you could actually buy, not ridiculously made up.
I really liked their take on the Carcano sisters and AN-94 (shown below), and asked them to design something similarly suited for Welrod; well-mannered and refined, but not without panache.
10 out of 10 very happy with what they came up with, it's simple and elegant but still sexy. They did a nice job in using the stripe motif without going overboard, and I'm sure the panelling on the panties is an echo of the corset's silhouette.
The way the whole piece looks kinda like a magazine page is cool too. If you're curious about the caption text, here's my crappy translation:
my formal
       lingerie

格式を、着る
Make it formal

黒を基調とした格式高くスマートなデザイン。
A refined and smart design based on black.
普段使いもできる着心地ながら気を引き締める。
Comfortable enough for everyday wear, but showy enough to set the tone for any encounter.
日常にも、特別な場にも活躍できるランジェリー
It's lingerie that's suitable for daily life, and special occasions.